Abdominoplasty
Abdominoplasty, commonly known as a tummy tuck, is a surgical procedure used to improve the shape and appearance of the abdomen.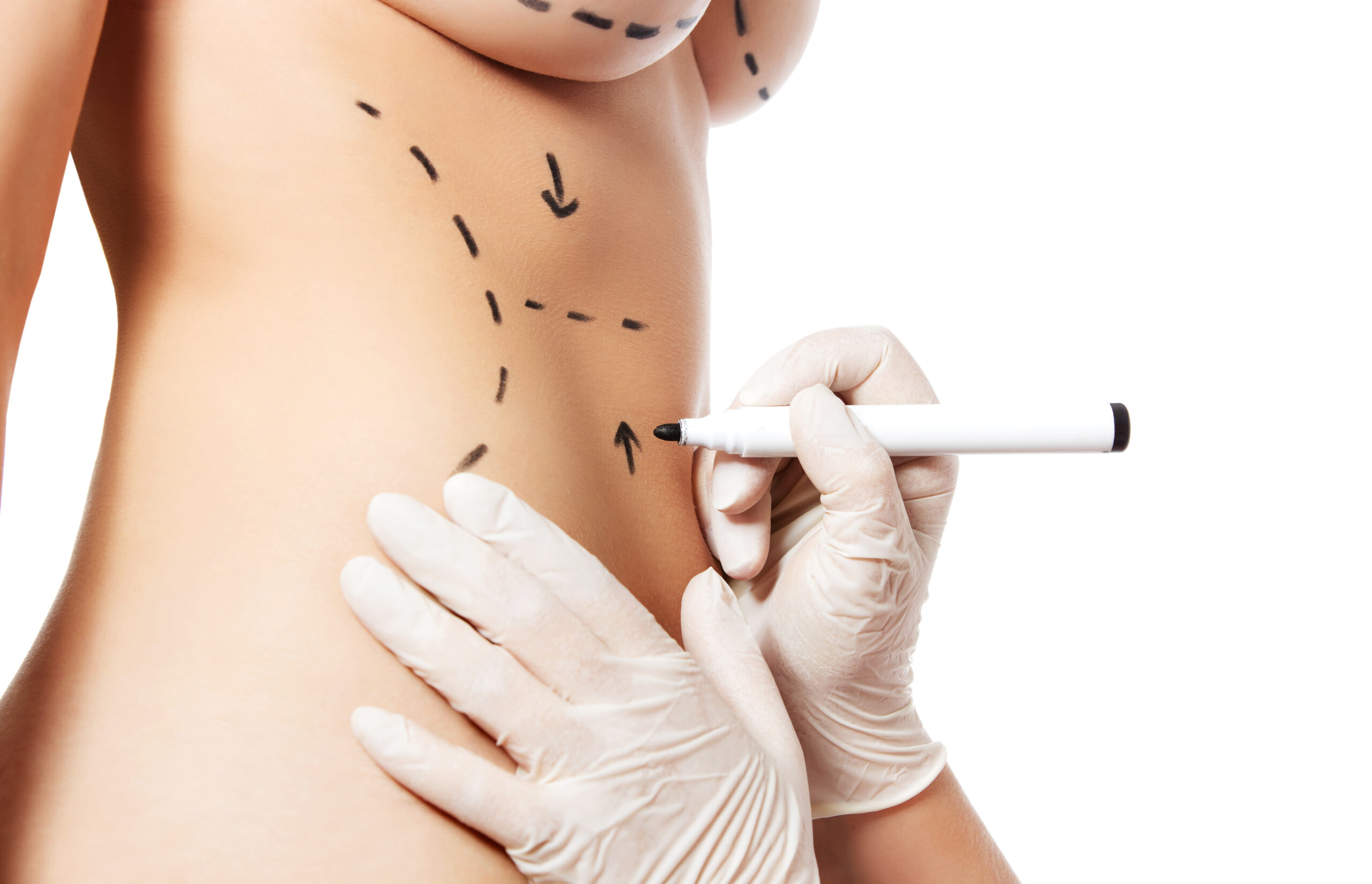 Abdominoplasty | Tummy Tuck
During a tummy tuck, we remove the excess skin and fat from around the belly. In addition, we tighten the connective tissue to strengthen the muscles for a tighter, more sculpted appearance. 
The tummy tuck is typically performed on patients who have lost a significant amount of weight and have excess skin. However, there are several reasons why one might opt for an abdominoplasty.
Mr Khan performs all aspects of aesthetic surgery to the abdomen, including the removal of excess tissue (abdominoplasty). The specific surgical approach will be tailored to your individual needs and will address the structural and aesthetic requirements of your abdomen. Repairs of the abdominal wall musculature and high-definition liposuction are combined with abdominoplasty to bring more definition to the abdomen and achieve the optimal aesthetic outcome for you.
Why Get an Abdominoplasty/ Tummy Tuck?
There are several reasons you might have excess fat around the abdomen, including poor elasticity of the skin or weakened connective tissue. Some other reasons might include:
Significant changes in weight

Pregnancy

Abdominal surgery, such as a C-section

Aging

Your natural body type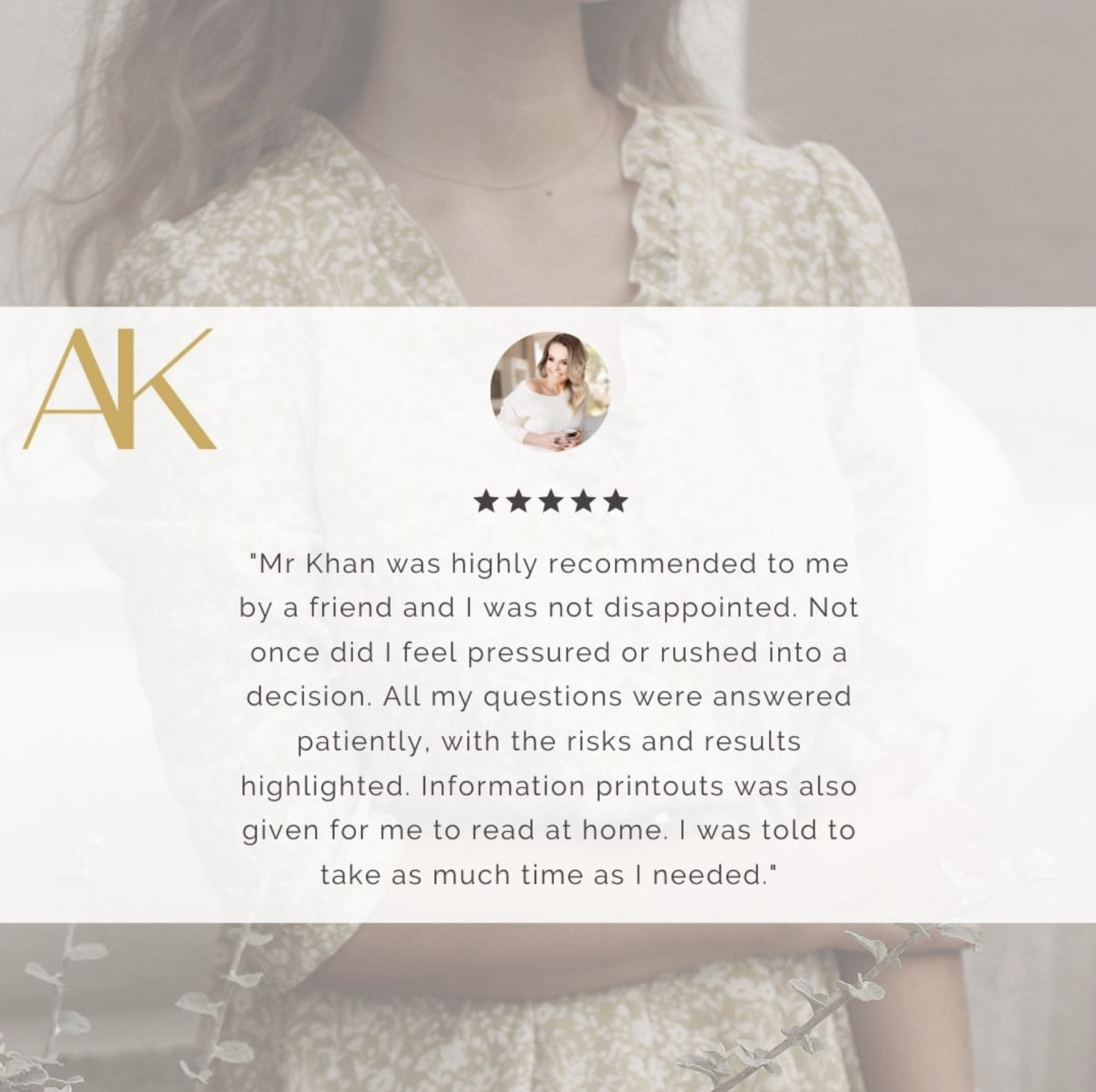 How is an Abdominoplasty Performed?
Before surgery, we will invite you for a consultation to discuss your desires and the procedure in detail.
There are some guidelines and things for you to arrange, but your surgeon will discuss this with you in detail during your initial consultation. Some of the general guidelines include:
Stop smoking

Avoid certain medications including Asprin and Anti-Inflammatory medications

Maintain a stable weight

Arrange for help during recovery including somebody to drive you home following the procedure
On the day of your surgery, we will give you general anaesthesia to ensure you are conformable during the procedure. Your surgeon will then make an incision on the lower abdomen, typically from hip to hip, just above the pubic area. The length and shape of the incision may vary depending on the extent of the tummy tuck and the patient's anatomy.
Next, it's time to lift the skin and fat layer of the abdomen to expose the underlying muscles. Excess skin and fat are carefully removed, and we may use Liposuction to help remove excess fat from the abdominal area and achieve a more sculpted appearance.
If your abdominal muscles are weak or separated, your surgeon may recommend a procedure called diastasis recti repair. This involves the surgeon using sutures to connect the abdominal muscles, tightening and repairing the abdominal wall to create a flatter and firmer appearance.
After the removal of excess skin, fat, and muscle repair, the surgeon will re-drape the remaining skin over the abdominal area, pulling it taut to create a smooth and contoured appearance. 
We will close all of the incisions using surgical sutures or staples. We may also place drains under the skin to collect any fluid that may accumulate during the healing process.
Recovery
Directly after your procedure, we will move you to a recovery area where you will be closely monitored.
During the discharge process, we will give you specific instructions on how to best care for the incisions, manage pain, and resume normal activity during the healing process.
For the first six weeks following a tummy tuck, you'll need to be careful when moving around and avoid any positions that put a strain on your incisions – such as bending at waist level.
Your surgeon will likely give you a supportive abdominal garment known as an abdominal binder to wear to help prevent fluid build-up and provide abdominal support while you heal. 
Swelling and bruising are common after a tummy tuck and can persist for several weeks to months. Wearing compression garments as prescribed by your surgeon, elevating your legs when resting, and avoiding salty foods can help reduce swelling.
Your surgeon will also schedule follow-up visits to monitor your progress and ensure proper healing. Your surgeon may remove drains and change dressings during these visits.
As you heal, your surgeon will advise you on when you can gradually resume normal activities, including work, exercise, and other physical activities. It's important to follow your surgeon's instructions and not rush into activities too quickly to avoid complications or delay healing.
Risks
Like any other type of major surgery, a tummy tuck does carry a risk of complication. You must select a trained and licensed plastic surgeon, such as Aadil Khan to perform your surgery to mitigate the risk.
Some possible complications following a tummy tuck include:
Fluid accumulation beneath the skin (seroma)

Poor wound healing

Unexpected scarring

Tissue damage 

Changes in skin sensation
For more information on Abdominoplasty, or to book a Consultation with Aadil Khan, click here.
Recovery garments
Surgical compression garment
Follow-up
1 week and 2 weeks after discharge
Return to desk-based work
How does weight loss Cause Excess Skin?
When you gain weight, your skin stretches to accommodate the extra volume of fat. However, the skin has a limited amount of elasticity, and it stretches too far, for too long, it can lose some of its ability to snap back into place once you've lost underlying fat. This can result in excess skin, which may appear saggy or loose.
Additionally, if you lose a significant amount of weight quickly, such as through bariatric surgery or crash dieting, the skin may not have enough time to adjust to the smaller body size and may not shrink as much as you would like, resulting in excess skin.